Casa Laurent and Guadalajara. Photographs, 1862 – 1902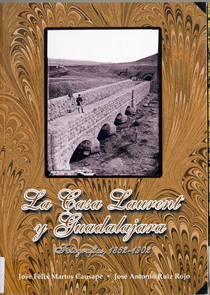 Book-catalogue that includes a set of magnificent images by J. Laurent (and his collaborators and successors) that allow us to take a look many years later at various public works (railways, highways, canals), cities (Guadalajara, Sigüenza) and monuments emblematic and well-known palaces (Cogolludo and Infantado palaces), in addition to being able to contemplate anonymous or illustrious characters linked to our land; It is the largest photographic collection in Guadalajara in the 19th century. EXHAUSTED
Description
-Introductory text, on the figure of J. Laurent by the specialist Ana Gutiérrez.
-Texts by José Antonio Ruiz Rojo and José Félix Martos Causapé on "Guadalajara: Portrait and landscape in Laurent's photographs".
-Book with 156 pages of which the last 99 correspond to a magnificent catalog with photographs of different sizes and a set of 9 x 14 cm postcards. Many images donated by the Ruiz Vernacci Archive of the IPHE and the portraits of famous types and personalities donated by the Municipal Museum of Madrid.
Index
Presentation: 7
J. Laurent, for lands in Spain and Portugal Ana Gutiérrez Martínez: 9
Guadalajara: Portrait and landscape in the photographs of Laurent José Antonio Ruiz Rojo and José Féliz Martos Causapé: 27
Catalog: 57
| | |
| --- | --- |
| Number of pages | 156 |
| Author | Jose Felix Martos Causapé; Jose Antonio Ruiz Rojo; Ana Gutierrez Martinez |
| Publication | Guadalajara Provincial Council, Culture Service, Center for Photography and the Historical Image of Guadalajara. 2007 |
| isbn | 978-84-87791--90-1 |
| Dimensions | 30x21cm |