Photography in the old press of Guadalajara (1891 – 1929)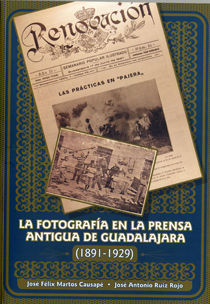 The old press photography is still a gap in studies on the history of photography in Spain and in other countries. Only a few manuals on the history of universal photography and almost none on the history of journalism dedicate specific chapters to the subject of photography in the press. This catalog book is a small contribution to the cause. The period covered covers from the last decade of the 19th century to the final years of the Primo de Rivera dictatorship and roughly coincides with the second stage in the history of the Spanish graphic press.
Description
Book of recovery of our graphic heritage, it contains around three hundred reproduced images, which collect old photo-engravings that appeared in magazines and newspapers from the late 19th and early 20th centuries.
For the elaboration of this book, the authors have used the copious funds of the Public Library of the State in Guadalajara and thus have been able to carry out an exhaustive review of the first ten years of images in the press and the essential weekly Renovación (culmination of photojournalism). in Guadalajara) and also refer to other especially significant images and the photographic beginnings of each new header in the intervening years.
Index
PRESENTATION 5
PHOTOGRAPHY IN THE OLD PRESS
FROM GUADALAJARA (1891-1929)
José Félix Martos Causapé and José Antonio Ruiz Rojo: 7
1. INTRODUCTION: 9
2. FROM SILVER SALTS TO PRINTING INK: PHOTOMECHANICS: 11
3. BEGINNINGS OF PHOTOGRAPHY IN THE PRESS IN GUADALAJARA (1891-1901): 13
3.1. popular magazine: 13
3.2. The Enlightenment: 17
3.3. Beginnings of Flowers and Bees: 21
3.4. Popular Education: 29
3.5. Photographic beginnings of La Crónica: 29
3.6. The end of the century in Flowers and Bees: 33
3.7. The Illustrated Alcarria: 42
4. PRESS PHOTOGRAPHY IN GUADALAJARA BETWEEN 1902 AND 1925: 51
4.1. The briocense: 51
4.2. Yearbook-Guide of Guadalajara and its province: 51
4.3. Flowers and Bees: 56
4.4. The Arriacense Liberal: 59
4.5. Other newspapers: 59
5. THE RENEWAL WEEKLY (1926-1929): 64
5.1. Renovation and the Spain of Primo de Rivera: 64
5.2. Photography in Renewal: 65
5.2.1. Portraits of politicians and acts of a political nature: 67
5.2.2. Public works: 74
5.2.3. Social Life: 83
5.2.4. Military life: 93
5.2.5. Portraits and events of a religious nature: 97
5.2.6. Historical-artistic heritage: 104
5.2.7. Urbanism: 114
5.2.8. Landscape and nature: 119
5.2.9. Sports: 119
5.2.10. Curiosities and customs: 119
| | |
| --- | --- |
| Number of pages | 166 |
| Author | Jose Feliz Martos Causapé, Jose Antonio Ruiz Rojo |
| Publication | Guadalajara Provincial Council, Culture Service, Center for Photography and Historical Image of Guadalajara, 2008 |
| isbn | 84-87791-95-6 / 978-84-87791-95-6 |
| Dimensions | 30x21cm |