Film Days (2nd. 2004. Guadalajara)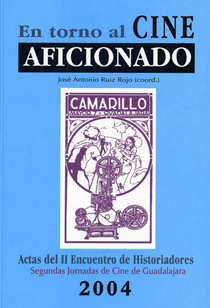 In this second meeting, we try to delve into the complex and varied problems of Amateur Cinema, we have once again summoned the historians of the State so that with their authorized reflections they help to give the definitive impulse to an initiative that we consider deserving of all the pampering class.
Description
On this occasion we have five presentations commissioned to as many prestigious Spanish historians: Joaquín Romaguera i Ramió, Joaquín Cánovas Belchí, Juan Bautista Sanz, José Ramón Saiz Viadero, José María Folgar de la Calle and Jon Letamendi Gárate.
In addition to the Papers, there are eleven suggestive communications that significantly broaden the historiographical horizon.
Index
Foreword by the Deputy Delegate for Culture: Mr. Francisco García Sánchez: 9
Introductory note from the Meeting Coordinator, Mr. José Antonio Ruiz Rojo: 11
Conclusions of the First Meeting of Historians on Amateur Cinema (2002): 15
PRESENTATIONS
Joaquim Cánovas Belchí and Juan Bautista Sanz: The innocent look: reflections on amateur cinema and amateur cinema from Murcia: 19
José María Folgar de la Calle: Díaz Noriega and Luca de Tena: two amateur filmmakers in Galicia: 27
Jon Letamendi and Jean Claude Seguin: The origin of reconstructed news in Spain: 37
Joaquim Romaguera i Ramió: La canÇo or filmed music, a musical subgenre before the video clip: 49
José Antonio Ruiz Rojo: The Pathé Baby cinema in Guadalajra: 69
José Ramón Saiz Viadero: The prodigious decade and the cinematographic generation of 68 in Cantabria: 81
COMMUNICATIONS
Txomin Ansola González: -Notes for a history of the non-commercial film exhibition in Bilbao (1902-1912): 99 -The Don Bosco International Salon in Barakaldo: pioneer of amateur cinema in the Basque Country: 111
Rafael del Cerro Malagón: Some data on non-professional cinema in Toledo: 121
Agustín Díez Pérez and César Pacheco Jiménez: Costumbrismo and folklore in the amateur cinema of the 1930s: the case of Daniel Jorro's «Por tierras de Talavera»: 129
Jesús García Rodrígo and Fran Rodríguez Martínez: Jacinto Fernández Valdés, the eye of amateur cinema in Catilla-La Mancha: 143
Francisco Mavier Gómez Tarín: -Image, models of representation and ideology: Yaiza Borges and pregnancy: 157 -Hegemonic system and resistance. Ideological and theoretical-practical perspectives on independent film production: 169
Javier Herrera Navarro: Against Dalí, amateur filmmaker. An unpublished text by Arturo Ruiz Castillo: 183
Francisco Javier Lázaro Sebastián: The initial amateur cinematographic work of José Antonio Duce in the context of the Club Cine Mundo de Zaragoza (1958-1960): 195
Pablo Pérez Rubio and Javier Hernández Ruiz: José LUis Pomarón: the challenge of professionalism: 217
Antonia del Rey Reguillo: Between documentary and fiction, or the fantasies of a ventriloquist: 225
Fernando Sanz Ferreruela: Spanish amateur cinema and the Catholic religion in the 50s: some considerations through the work of José Luis Pomarón (Faith and Man-God): 239
| | |
| --- | --- |
| Number of pages | 251 |
| Author | José Antonio Ruiz Rojo, coordinator. |
| Publication | Guadalajara Provincial Council, CEFIHGU. 2004 |
| isbn | 84-87791-67-0 |
| Dimensions | 24 x 16.5cm |