Film Days (4th. 2007. Guadalajara)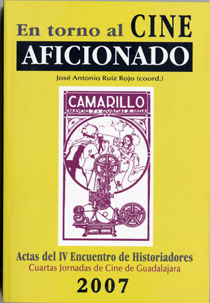 Around amateur cinema: Meeting of Historians.

This fourth meeting of historians dedicated to the memory of Joaquim Romaguera i Ramió; We have valuable contributions from historians who have already participated in previous years and no less interesting works from other scholars who are now joining the common task. The diversity of themes, approaches and treatments and the quality of the proposals are the most outstanding treatments.
EXHAUSTED
Index
Foreword by the Deputy-Delegate for Culture, Mrs. María Jesús Lázaro Silgado: 9
Introductory note from the Meeting Coordinator, Mr. José Antonio Ruiz Rojo: 11
PRESENTATIONS
Luis Alonso García: On amateur cinema, between submission and insurrection: 15
José Luis Chacón Lafuente: Val del Omar, amateur. Of the unprecedented (and its influences) in the speech of José Val del Omar: 33
José Antonio Ruiz Rojo: Approach to the 16 mm films of Tomás Camarillo: 65
Carmen Sáez Elected: Seminci-Cátedra de Cinematografía: an experience of cinematographic culture in Spain: 95
Francisco Javier Gómez Tarín: Creation and freedom: the transfer of an alternative film production from the margins to educational institutions: 111
COMMUNICATIONS
Luis Antonio Alarcón Sierra: Brief history of the "National Script Contest for Amateur Cinema" of the Cine Club Saracosta de Zaragoza (1958-1961): 129
Roberto Arnau Roselló: The Class Cinema collective: commitment, testimony and resistance: 139
José María Folgar de la Calle: Antonio Caeiro, a committed documentary filmmaker: 151
Javier Herrera Navarro: Cinema as an instrument of propaganda: the documentary Extremadura, the cradle of America (1929): 161
José Félix Martos Causapé: One day in the rehabilitation of the Palace of D. Antonio de Mendoza: 175
David Recio Gil: The Guadalajara National Film Contests (1983-1987: 189
Fernando Redondo Neira: Family films as museums of everyday life: 227
Francisco Javier Ruiz del Olmo: The film production of the brothers Pío and Julio Caro Baroja at the beginning of the sixties: between film fans and ethnographic practice: 237
JR Saiz Viadero: From 28 mm (Pathé Kok) to 35 mm: the cinematographic evolution of the Hoppe family Charity party in Santander: 249
M. Encarnación Soler i Alomá: 75 years of the Amateur Film Section of the Excursionist Center of Catalonia: 265
José Carlos Suárez Fernández and Pedro Nogales Cárdenas: The passion of an artist: recovery and investigation of Joaquim Mir's films: 283
AMATEUR CINEMA MANAGEMENT
Peio Aldazabal Bardají: Testimony of the unprecedented: The cinema that did not reach the screen: 307
Mariona Bruzzo Llaberia: Preserving Amateur Cinema: conservation and dissemination: 315
| | |
| --- | --- |
| Number of pages | 326 |
| Author | José Antonio Ruiz Rojo, coordinator. |
| Publication | Guadalajara Provincial Council, CEFIHGU. 2007 |
| isbn | 978-84-87791-91-8 |
| Dimensions | 24 x 16.5cm |