Trip through Castilla-La Mancha and Castilla y León in 1965 (repeated in 2004).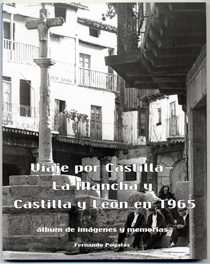 Album of images and memories
Book-catalogue that corresponds to the third exhibition of the "Fernando Poyatos Photographic Collection" of CEFHIGU. In this collection there are no images of Guadalajara, to which he has dedicated a good part of his photographic work; With this new catalog Fernando Poyatos shows that he is equally a lover of many other Spanish towns and their people.
Description
Book-catalogue where the author in the first part describes the trip made in the summer of 1965 by various Spanish towns.
He began his journey in Budia, the heart of the Alcarria de Guadalajara, his most intimate homeland, to later move to the province of Cuenca through Valdeolivas and, now through Priego and Poyatos, in the Cuenca mountains, and through his portion of La Mancha, cross Ciudad Real and Toledo and zigzag through the mountain towns of Ávila and later through those of Salamanca. From this province it would go up to the areas of Tierra de Campos corresponding to the provinces of Valladolid, Zamora, León and Palencia, to then begin to go down through those of Burgos, La Rioja, Soria, Segovia and, through the province of Madrid, finish another time in their lands of Guadalajara arriving again in Budia.
The second part consists of 64 magnificent black and white photographs, which the author took in 1965 through the lands of Castilla-La Mancha and Castilla y León.
Index
Foreword by María Antonia Pérez León: 5
The author: 9
The itinerary of the trip in 1965 and 2004
Preparing as a photographer of the past: 13
A trip that would be repeated forty years later: 14
Reality and interaction through the gaze of the photographer: 15
Departure from La Alcarria towards the Serranía de Cuenca: 17
From La Mancha to Ciudad Real and Toledo: 19
Through Toledo lands towards the Sierra de Gredos: 22
From Valle del Tiétar to Sierra de Gredos and Valle del Tormes: 23
By Sierra de Francia to the Valley of the Batuecas: 26
In the depths of Las Batuecas: 30
From lands of Salamanca to those of Valladolid: 32
Land of Fields: 34
Returning from the old Castilla la Vieja to the heart of the country: 39
Catalog: 43
| | |
| --- | --- |
| Number of pages | 108 |
| Author | Fernando Poyatos |
| Publication | Guadalajara Provincial Council, Culture Service, Center for Photography and the Historical Image of Guadalajara. 2009 |
| isbn | 978-84-92502-02-8 |
| Dimensions | 26.5 x 21cm |